Artist Profile
Dale Hietala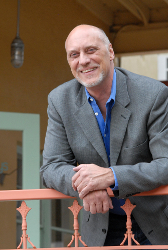 My artistic pursuits are based primarily in leather. When I was about 10 years old, my grandmother bought me a leathercraft starter kit from Tandy Leather for Christmas. Being so young, my only real thought was "Cool...I can make my own wallet." I essentially tinkered with leathercraft, off-and-on, for the better part of the next ten years. When I was in college, I happened to walk into a leather store that was run by a very talented man and realized what artistically extraordinary things could be done with this medium. It was at that point I really got my start in leather art.
I am primarily self-taught, though I have been strongly influenced by other craftsmen and artists. I have continued my education with more traditional artists and expanded my repertoire to other mediums, sometimes combining them with leather to create a unique look to a piece. While I will, no doubt, continue to pursue additional mediums, I believe I will always focus on leather. The feel of the hide, the unique smell, its malleability, and its natural ability to show tonal value with nothing more than a burnish will always bring me back. Plus, it just looks cool!
My primary subject matter is animals - especially wildlife. It continues to be my goal to capture the nobility, purity and unpretentious nature of the animal kingdom. If you ever had a desire to touch a deer, see a mountain lion, or even hug a dog, you probably know what I'm talking about. If I ever create a piece that fully evokes such sentiment, I'll be a happy man!